Check Out the Huge Range of Forklifts at Liftech
At Liftech, we want to make sure the needs of your project are met perfectly – which is why we have a huge selection of Forklifts to meet the demands of every industry!
From LPG and diesel to electric battery powered, indoor and outdoor machines, small turning circles to extra grunt, there is nothing we don't have!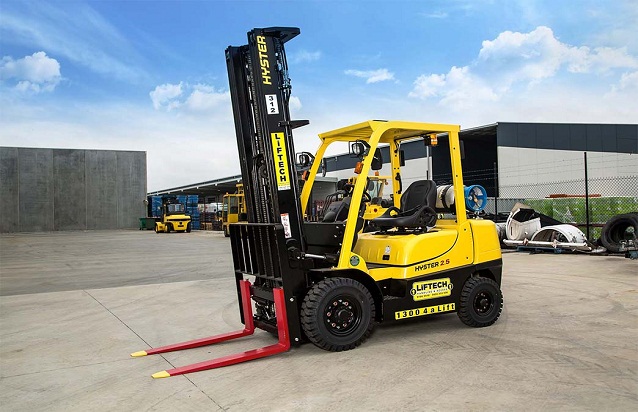 Diesel
Are you working across tough, outdoor terrain? If you need to move heavy pallets around your exterior facility, then diesel power is the ideal choice for your business. Diesel Forklift machines offer superior performance compared with other fuel options, meaning you can take advantage of a fast-paced forklift that performs just as well on gradients as it does on level ground. The addition of pot-hole stabilisation, puncture-proof tyres and four-wheel-drive handling leave you with a powerful machine that can tackle any outdoor project.
Electric
The opposite to diesel power in almost every way, these machines are light, compact and easy to manoeuvre. The safest of all our models, these forklifts create no emissions during use, meaning they can be used indoors without worrying about a build-up of exhaust fumes inside your factory; they also have the added bonus of being the most 'green' of our forklifts, which is ideal if you're working toward hitting sustainability targets. Silent operation means they can be used without causing damage to your team'seardrums overtime.
With non-marking tyres, automatic breaking and a tight turning circle, there is no better choice for indoor warehouses than an electric forklift.
LPG
The ideal versatile machine! If you want a forklift that can do it all, then this is the option for you. Low emissions operation means it can be used indoors for periods of time without concern for exhaust build-up, whilst extra grunt ensures it can still match-up (almost) to the heavy load capabilities that the diesel alternative can offer.
In short, this forklift brings together the best elements of both power options, so you can take advantage of flexible LPG forklift that can be used indoors and out.
Attachments
Need a little bit extra from your forklift hire? Our range of attachments ensure you can customise our machines to your needs. These include:
Vertical lifting hooks
Tyne extensions to extend your reach
Articulated jibs
Carpet poles
Other factors to consider
Fuel isn't the only deciding factor to consider when hiring a forklift. Luckily, our hire fleet includes a range of sizes and maximum weight capacities.
1.2 tonne to 6 tonne lifting capacity
Widths from 1060mm to 1360mm
Lift heights from 4300mm to 6545mm
At Liftech, we take meeting your needs very seriously, which is why our hire fleet has such a wide range of forklifts to choose from. Come and visit our team today to take each model for a test drive or speak with our experts and let us find the perfect forklift for your project – whatever you're looking for, we have the solution!
Visit our huge purpose-built facility, centrally located in Dandenong South, and check out our forklifts in person.